FEBRUARY NEWS 2022
It's been a little over a month since our IMOCA FORTINET-BEST WESTERN went in for refit at our new base in Lorient, Brittany, to undergo a thorough check-up and get a fresh lick of paint in readiness for what promises to be an intense 2022 season!
LIVE FROM THE YARD
The winter refit began the moment the boat returned to Europe after the Transat Jacques Vabre and is set to last until late April. The shore team is working flat out on the preparation of our 'rocket ship' to ensure she's fighting fit for the start of the racing season!
With the aim of meticulously checking every part, the boat is being dismantled, cleaned and sanded right back to the laminate throughout. Naturally, keeping on top of any wear and tear is vital between each season if a team is to avoid breakage mid-race, which might put it at a serious disadvantage and be dangerous.
This year, our FORTINET-BEST WESTERN is undergoing a revamp! She'll benefit from a brand-new paint job on her hull and deck. The livery itself will be identical to last year's, albeit with a weight-saving of nearly 60kg!
This winter refit also serves as an opportunity to repair any damaged parts or sections and make a few structural reinforcements.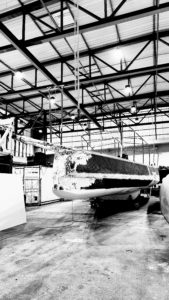 SITE TOUR WITH OUR PARTNERS – 21 JANUARY 2022
We were delighted to hook up with our partners at the yard in Lorient on Friday 21 January. It was a great opportunity to share news of the project and exchange ideas. Romain was able to show around the boat during the sanding process, chat about the highlights of 2021 and present the programme for 2022.
Our skipper will this year be setting sail on the following singlehanded races:
The Vendée-Arctique-Les Sables d'Olonne from 12 to 26 June, a 3,566 NM looped circuit including a circumnavigation of Iceland
The Défi Azimut from 13 to 18 September in Lorient
The Route du Rhum: singlehanded transatlantic race between Saint Malo in France and Pointe-à-Pitre in Guadeloupe, starting on 6 November.
We can't wait to get FORTINET-BEST WESTERN back in the water in late April to kickstart what's set to be a thrilling new season!
NEWS OF ROMAIN
This winter refit period is an opportunity for our skipper to dedicate as much time as possible to his physical fitness training: running, cycling and kick-boxing… and also turn his attention to shore-based project management, analysis of the boat's performance data gleaned in 2021, preparation of road maps and examination of the weather for the upcoming races.