INTERVIEW OF SAILOR ROMAIN ATTANASIO
While Romain crossed the finish line of the Route du Rhum on Tuesday November 22 at 4:55:20 p.m. local time (9:55:20 p.m. Paris time) in 10th position, our skipper is back in Brittany. The schedule for the next few weeks promises to be busy between the upcoming launch of the winter camp, meetings with partners, award ceremonies, and preparation for its brand new objective: the Paris half-marathon next March. The boat currently on delivery should arrive early next week. We took advantage of this window to invite Romain to come back to his Route du Rhum with a "race report" interview. Good reading !
The Fortinet-Best Western team.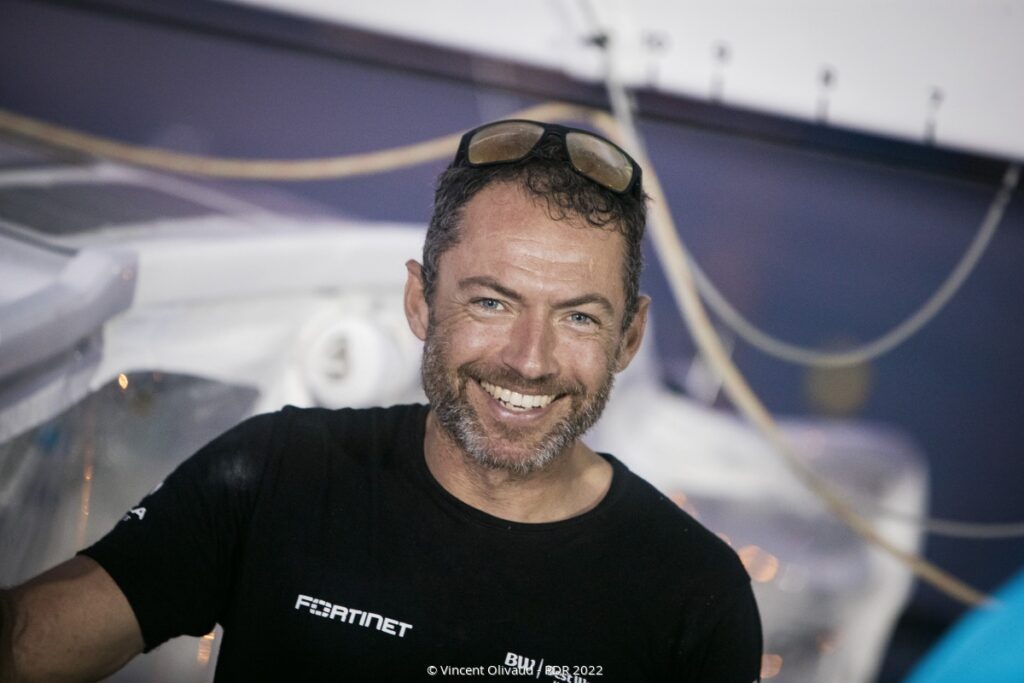 Can you tell us about your Route du Rhum in a few words, how did you experience it?
It was a difficult race, with a pace worthy of a Figaro stage but on a 60-foot IMOCA, and over 13 days instead of 3! We were all surprised by the pace and intensity of the race. Every little mistake could make you lose a place. Each maneuver was decisive. As in Figaro, it was played for nothing during the whole race!
I was full the whole time. Every time I did a maneuver I did it running. I even had a side stitch at the Basse-Terre buoy which was quite an intense moment in terms of sail changes and settings (south of Guadeloupe). In addition to the problems I had on board (Editor's note: generator and connection, see next question), it created a lot of twists and turns.
It seems anecdotal when I say at the finish that it's the first time I've done a transatlantic on which I haven't washed, but it's quite revealing of the extremely fast pace of this Route du Rhum!
What were your 3 best moments?
Leaving: I felt a relief!
As I mentioned, I had a complicated year and I had a lot of things in mind. And when I take the start I say to myself: now we unplug everything and we race. I felt a release. This departure freed me of a weight.
When the generator fails, I come close to turning around, and finally I hold on
After my generator exploded, I have the team on the phone and we are looking for solutions. In the middle of the night, no need to rely on solar panels. We realize that the port hydrogenerator charges better so I tack and I see that it works. I say to myself: we will see tomorrow but there may still be a shot to play. In the morning I see that with the sun the batteries recharge and hope returns. I'm really relieved because I hate giving up: a race ends even on the rims but it ends. The only race where I gave up was because I sank (Editor's note: Mini-Transat 1999).
The finish: I arrive under the island and I see Pip (Hare)
With my connection problems, I lost places because I no longer had an up-to-date weather file. But on arrival in Guadeloupe I manage to pass two boats (Tanguy le Turquais – Lazare and Seb Marsset – My energy broker). When I arrive under the island, I see Pip and there I tell myself that I have to give everything! It's Pip who gives me the ranking by VHF and when I pass 10th I stay hyper focused. The passage of the Canal des Saintes is an incredible moment and I stay focused until the finish line.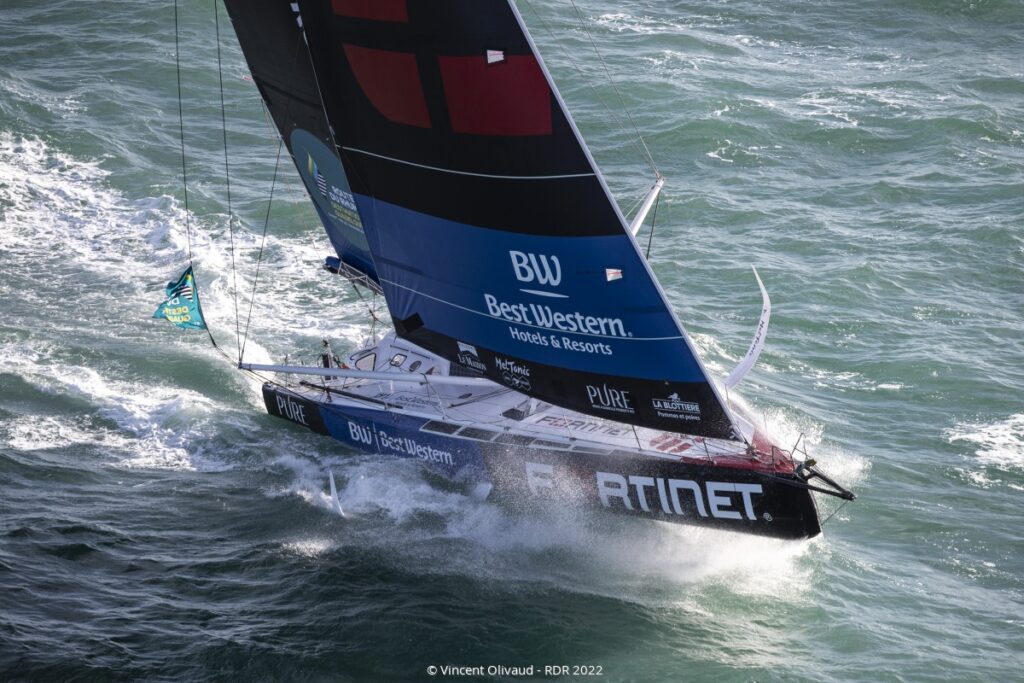 Your three worst moments?
When the generator explodes: there are fireworks in the boat and sparks. At the time, I tell myself that I will not be able to finish the race without a generator.
In the backbone with Maitre Coq and Corum: my boat is switched off because of my battery problem, and an IMOCA which is switched off does not work so well… There I see Corum slipping behind a cloud and the next morning I see that it is 26 thousand ahead.
When my Certus antenna breaks down: I no longer have a weather file and no position. I lose everyone and the day before arriving when I find them I realize that I made the wrong tack. I'm really starting to worry.
You finish 10th in the race and get the Lornet Prize* a word about your result?
I recovered my 10th place on the wire after a very close match. I am happy to have achieved my initial objective despite the technical problems I encountered! Usually I'm not a finisher, but this time I stayed in the game until the end. I gave it my all, especially on the tour of Guadeloupe, it's nice to get the record for circumnavigating the island in IMOCA class!
*record for the circumnavigation of Guadeloupe in the IMOCA category in 6h51min
A little word for your team and your partners?
The whole team was really motivated and managed everything in a somewhat complicated year for me. It is a collective result. The team is really great and I wanted to emphasize that.
My partners have been present all year, there is a real commitment on their part and real friendships that are forged. They are there to participate in the adventure! For Fortinet we toured England and Portugal where I felt a lot of enthusiasm for the project. With Best Western France, it's the same. Each time I travel, I am welcomed royally in a Best Western hotel and I feel that the teams take great care. And so with all my partners: they are all present to accompany me towards the Vendée Globe 2024, the relationships are very human and real. It is a chance !
One last comment?
The only one I didn't thank was the boat. This boat is really great: it does not go as fast as new boats, but on the other hand I have it well in hand and it is solid. The Arctic Vendée or the Route du Rhum are races where the boat has hit a lot but it is super resilient. Thanks to the team and the sponsors, we have a great boat that will be great for the Vendée Globe.