TRANSAT JACQUES VABRE: 5TH DAY OF RACING FOR FORTINET – BEST WESTERN
After a fantastic start off Le Havre on Sunday 7 November for FORTINET – BEST WESTERN, today we're reviewing the past five days of racing.
A BRACING START AND A STELLAR DEBUT TO THE RACE
Our duo compelled recognition from the start in the leading group with favourable conditions for exiting the Baie de Seine. With the wind easing from the first night out, Romain and Sébastien negotiated the wind shifts very well and managed to quickly adapt to the shifty weather conditions by being right on top of any sail changes and stacking.  

 It can't have been easy for our sailors, who haven't had a lot of rest during the first few hours of the race. 

FORTINET – BEST WESTERN rounded Raz Blanchard on the first night and then ended up "close-hauled, tacking across fairly flat seas amidst the dolphins", explains Romain.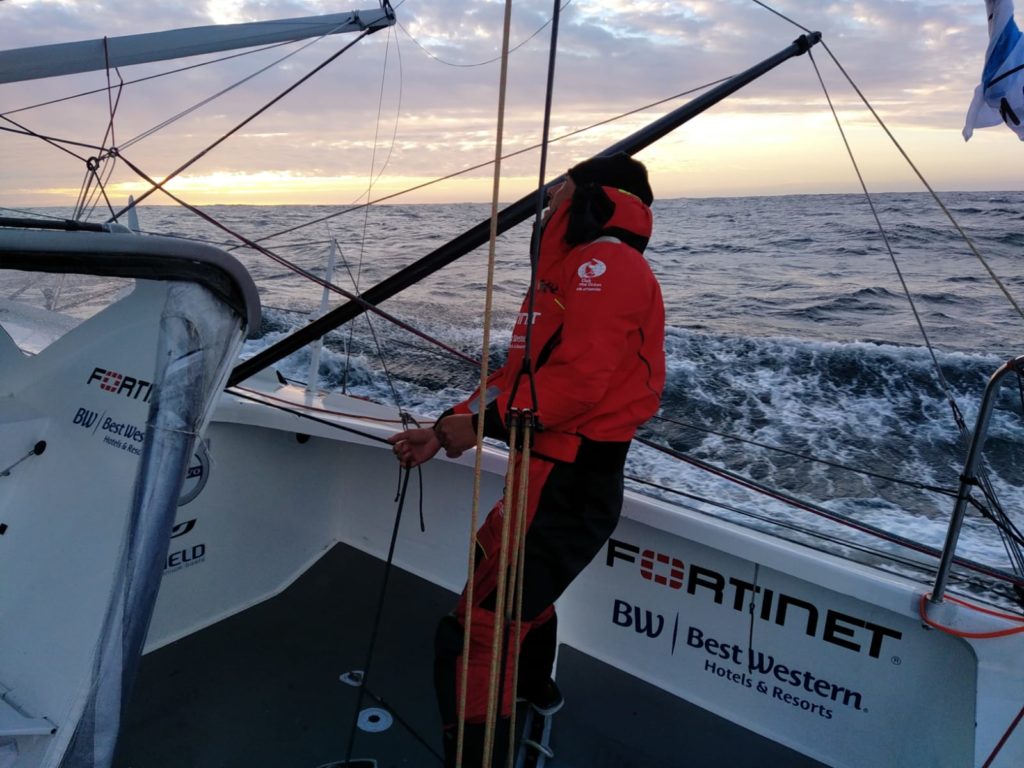 A RIDGE OF HIGH PRESSURE FULLY ENSCONCED
The second night proved to be even more complicated, in a changeable wind, tacking along the Breton coast.

Indeed, Romain and Sébastien had to put in a lot of manoeuvres in a bid to traverse a ridge of high pressure, which had become a firm fixture on the north-west tip of Brittany and in the Bay of Biscay.

Nonetheless, our pairing fared very well since they were positioned in second place!
ACCELERATION ON THE APPROACH TO CAPE FINISTERRE
Romain and Sébastien latched onto some glorious constant conditions again on the morning of Wednesday 10 November as they approached the Spanish coast. FORTINET – BEST WESTERN was able to really show what she was made of as a foiler, starting with her debut flights!

With a constant 30 knots of breeze, conditions had become very lively. Our crew linked together a series of gybes along Cape Finisterre and the Portuguese coast and took the outside lane at the Traffic Separation Scheme, the ocean highway adopted by the world's largest cargo ships.

"All the nights have been hard. We've had precious little sleep and each of us has only had a few half-hour kips. We haven't yet had time to settle into a rhythm," explains Romain, on the morning of Thursday 11 November.
FORTINET – BEST WESTERN is continuing to slip along downwind under the ridge of high pressure bound for the Canaries. The boat is hitting peak speeds of 20 knots and the temperature is getting pleasantly milder.

The name of the game is strategy as the duo try their best to negotiate a shifting wind both in terms of strength and direction.