TRANSAT JACQUES VABRE: A VERY PROMISING SEVENTH PLACE!
Romain Attanasio and Sébastien Marsset crossed the finish line in 7th place this Sunday in Martinique, at 04 h 37 min (08 h 37 min UTC). As a result, the two men completed the transatlantic passage in 20 days, 20 hours, 10 minutes at an average speed of 13.07 knots. The driving force in the group of outsiders for a considerable time, they notably demonstrated that Fortinet-Best Western was more than capable of playing the lead in IMOCA.
They treated themselves to a majestic finish, the kind that strikes a chord and is filled with good humour. Fortinet-Best Western sailed into the Baie de Fort-de-France this Sunday. The setting is truly unique with the Diamond Rock as the symbolic waypoint, followed by the finish line and the docking in. For Romain Attanasio and Sébastien Marsset it was essentially a symbol of the end of a race that had begun six months earlier, when they first took over the boat.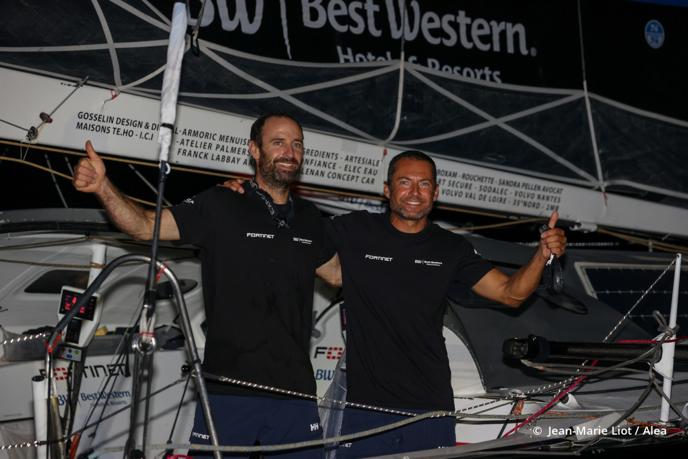 In the 'top 10' from the get-go
Originally launched in 2015, the 'foiler' which secured 5th place in the last Vendée Globe must be tamed. With this in mind, the two men, the skipper and the 'boat captain', who are primarily friends and partners, get out on the water as much as they can. Their mission? "To find the right balance in terms of how committed we are when sailing the boat", explains Romain. To take on the challenge, a great deal of self-sacrifice is required by both men, though they have to contend with some minor damage during the Rolex Fastnet Race and the Défi Azimut. It's another opportunity to learn and to raise their game prior to the start of the Transat Jacques Vabre. That Sunday, even though the sunshine struggled to cut through the greyness, the duo got off to a blistering start. In the opening tacks, the duo is within 10 miles of the head of the race and is already enjoying a 'top 10' spot.
The next stage of the race really tested their mettle due to the lack of strong wind and no front to negotiate. "It's no fun", admitted Romain after five days at sea. Ultimately, the fresh breeze only kicked in again once they were offshore of Cape Finisterre and with it came the chance to slip along nicely towards the African coast. Up next, they had to negotiate the doldrums to make headway to the west. Demonstrating real daring, they ultimately come good, clawing back a few places to secure 8th place.

Holding out to the last

Sometime later, they passed the passage mark of Fernando de Noronha, after what Romain referred to as a 'brutal' tack. "We were flat out as we made landfall with the boat airborne; it was incredible!" In the final sprint, making their way along the no-go zone, which stretches from Brazil to Venezuela, Romain Attanasio and Sébastien Marsset give their all, despite the excruciating heat aboard the boat and the fact that their large spinnaker had exploded and their large gennaker had ripped. Embroiled in a fierce battle in the chasing pack, it was impossible to ease off the pace as they slugged it out with Prysmian Group (Giancarlo Pedote-Martin le Pape) and Corum L'Epargne (Nicolas Troussel-Sébastien Josse). After making the finish, the duo can now make the most of a well-deserved rest whilst the shore crew deliver the boat back to France in a few days' time. Meanwhile, Fortinet-Best Western is already setting her sights on the coming year and a season of singlehanded racing, culminating with the Route du Rhum.

QUOTES
Romain Attanasio:
"We're very tired but really happy! Happy to have stayed in the match, happy to be among the top players and happy to have given our all. It was an intense race and we managed to stay in the chasing pack right to the last. At the end, we were embroiled in a match race with Prysmian Group and Maître Coq IV. Unfortunately, we ripped our spinnaker three days ago, even though we were really careful with the sail.
We managed to contain Prysmian Group for three days and that was pretty unlikely. The last night was really intense. We were flat-out, we didn't get any sleep and they managed to get in front of us. However, we're still very happy to finish 7th. We've learned a great deal from this boat and we can take delight in the fact that she was reliable: the two teams who'd taken receipt of their boats a few months earlier, like us (Bureau Vallée and 11th Hour), dismasted. We're the only ones to make the finish with a boat we've only known for a matter of months and that really is a great source of satisfaction for all the team."