TRANSAT JACQUES VABRE: ON THE HOME STRAIGHT
Having valiantly exited the doldrums, Fortinet-Best Western rounded the Fernando de Noronha waypoint this Sunday. Romain Attanasio and Sébastien Marsset, 8th in the IMOCA category, even treated themselves to the luxury of stealing a march on their rivals. We review a week packed with emotion before the duo set a course for the West Indies, where they're expected to make landfall this Saturday. 
In the open ocean, certainties are few and far between. The skippers prefer to stick to their convictions and their choices as far as the finish, sparing no effort in the process and giving their all. This is what is spurring on Romain Attanasio and Sébastien Marsset more than ever as they make their foiler debut in a transatlantic race. And the two men are posting a stellar performance, nicely positioned in 8th place within the chasing pack in the IMOCA fleet. This Sunday, they passed the compulsory waypoint of Fernando de Noronha offshore of Recife (Brazil). Cleaving through the ocean, the archipelago and its rocky peaks are like a gentle omen somehow: a guarantee of being able to set a course to the north-west and finally make for Martinique, the finish venue in this 15th edition of the Transat Jacques Vabre. 
"We've been belting along since Saturday!"   This compulsory waypoint, which Fortinet-Best Western rounded this Sunday, is also the point at which the duo is sounding the charge. Indeed, there's no way they're going to allow their direct rivals (Maître Coq IV, Prysmian Group, Nexans Art et Fenêtres) to get away from them now. In any case, such is Romain Attanasio's game plan this Sunday with Fortinet-Best Western making headway at an average speed of 18 knots during the past 24 hours: "we're on a reach and we've been belting along since Saturday. We want to sail flat out as we're keen to steal a march. Given that those furthest forward will have the edge, it's vital we don't slow down!" "During the tack across to Fernando, we'd never pushed the boat so hard", enthuses Sébastien Marsset. Keen to give their all and really get the best out of their IMOCA, the two men are having to deal with some tricky conditions aboard as they try to make their way down the racetrack, where they're regularly being shaken about, which frequently sets off the alarms. "The boat's jumping around so much that I'm incapable of typing out a message on the phone! I've tried to sleep in the bunk but that too is impossible: you're airborne every two minutes!"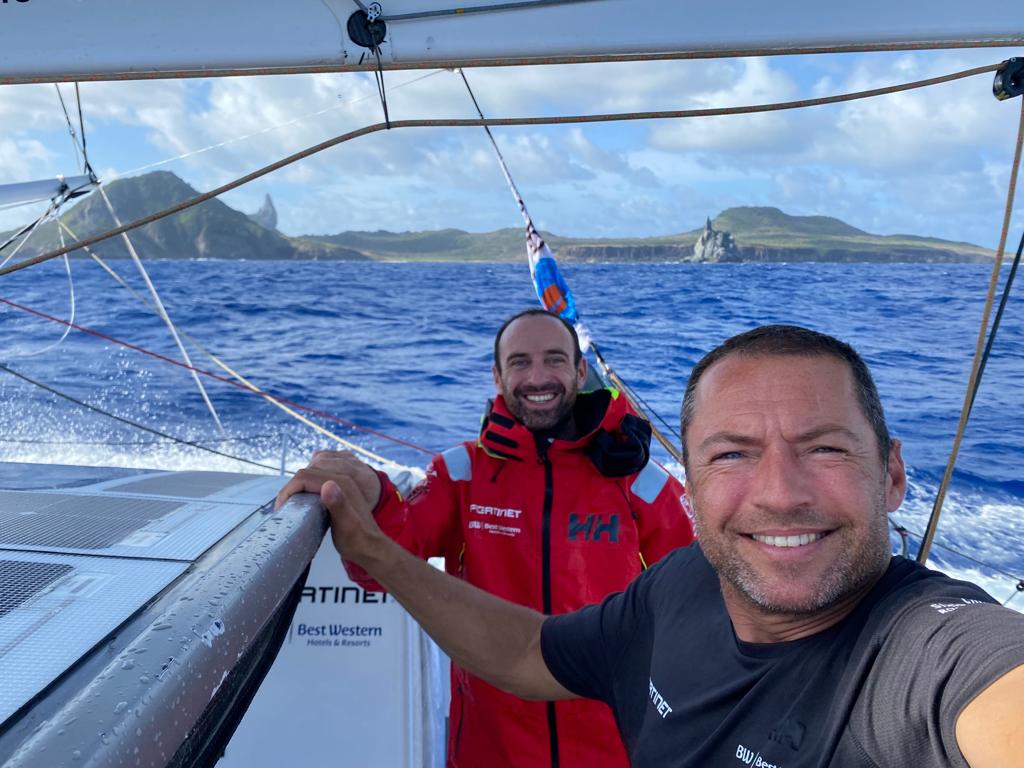 Exiting the doldrums "gave us a morale boost"
Just days earlier, on Friday, it was a very different challenge. The two co-skippers had to contend with the doldrums, a zone feared for its unpredictable wind conditions. And yet, Fortinet-Best Western came off particularly well from this key passage in the race. Romain explains: "It's an incredible edition. We've had precious little wind since the start of the race. We've just crossed through the doldrums at 23° west, and I can safely say that it's not recommended in any weather bible. Our coach Jean-Yves Bernot has always taught us to cross through it at 27° west. As a result, we decided to traverse it at its shortest point, but we stalled and were overtaken by our rivals, who crossed further to the west. In the end, we managed to make some southing, get out the other side and then cross in front of the whole group!" The situation transformed from "not looking very good" to pulling a blinder against our direct rivals. "That gave us a morale boost and also enabled us to extend away a little."
Now, punching into strong current with sustained breeze expected over the coming days, it'll be important to stay strong. On the menu: multiple gybes along the no-go zone, which prevents the skippers from sailing within 200 miles of the coast of Latin America.
Romain Attanasio is also hoping to enjoy a shower this Monday. Aboard the boat, more than anywhere else, that is quite the luxury!
"I had my first shower since the race start last Friday, he acknowledged. It did me the world of good!" Sébastien Marsset reveals that the two men have "discovered that there's a knack to it": "when the ballast tanks are full, we run them through the deck vents which give you a substantial flow. We've called it thalassotherapy!" It's safe to say then that race or no race, there are still some timeless moments to be enjoyed, as evidenced by the splendid sunset immortalised last Tuesday and then an encounter captured by Sébastien Marsset, the following day, with several whales. A reminder that as thrilling a playground as it is, it's always shared.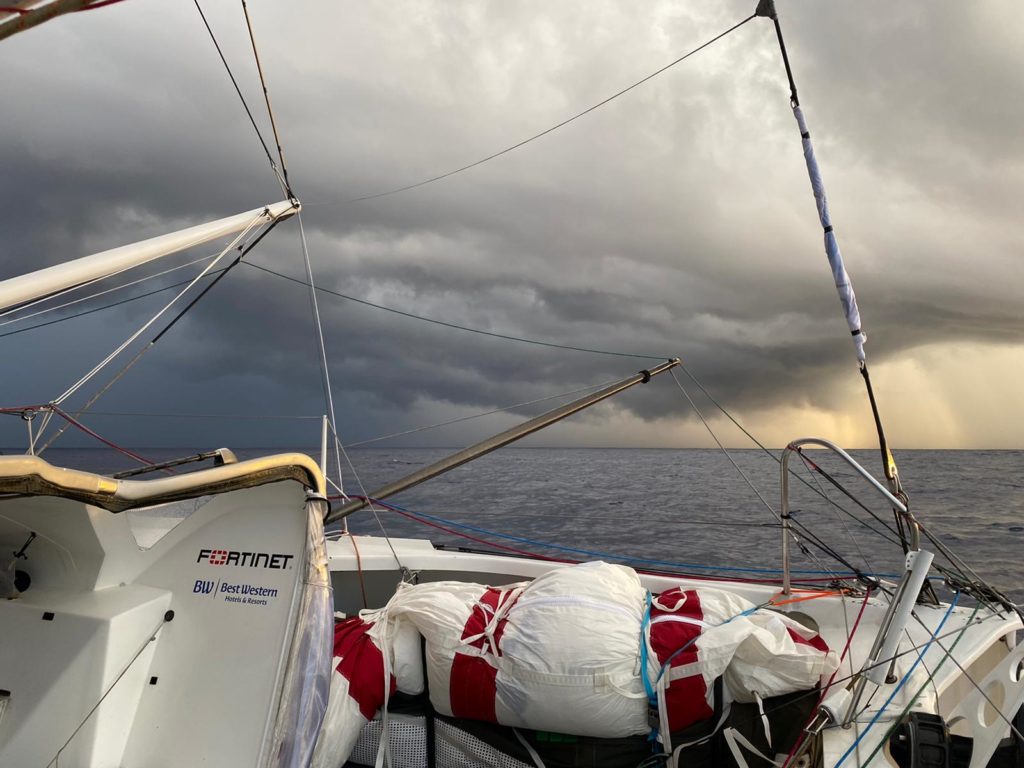 FORTINET – BEST WESTERN'S WEEK
Sébastien MARSSET, this Monday morning:
"We've had a full-on, action-packed week where our position on the leader board has changed multiple times. We've never had an opportunity to relax and rest on our laurels. We've always been under threat as the fleet is stretching out forward and back. There's hardly been a moment's respite. In the end though, this week has rounded off on a high as we've made up the deficit we amassed in the doldrums and we've rounded Fernando de Noronha, which is the final waypoint before Diamond Rock. Physically, the nocturnal wake-up calls are becoming increasingly complicated, and you sense that you need a coffee to wake up. That said, we're holding up and staying focused: above all we're aware that there's still the equivalent of a transatlantic passage left to cover!"