TRANSAT JACQUES VABRE: THE ATLANTIC AS THE SOLE HORIZON
After a particularly gruelling first week of racing, the Romain Attanasio-Sébastien Marsset duo has managed to hold onto its 'top 10' spot in the IMOCA fleet. Having negotiated the Canaries passage over the weekend, Fortinet-Best Western is continuing to make headway along the African coast before plunging southwards and making for the West Indies. 
They took the plunge over a week ago amidst the buzz of the race start. The atmosphere at that time, a mixture of concentration, zeal and motivation, is something that Romain Attanasio and Sébastien Marsset love above all else. This sentiment is further heightened when you're about to cross the Atlantic in one of the most prestigious races – the Transat Jacques Vabre – especially so aboard a 'foiler', which is a 2015 generation boat.
Changeable conditions, calm and strong breeze. Like all the experienced sailors with whom they do battle, they know that no two transatlantic passages are alike. This one is no exception to the rule with mild conditions, overly so at times, which have slowed their progress at the start. And yet the duo has managed to adapt, dig deep and keep up with the leading pack by sparing no effort and resolving to work through the cold nights, which in any case are far too intense for any comfortable sleep. Indeed, they've gone from shifty breeze on the first night to having to contend with calm conditions over the ensuing days. "There's no breeze, it's no fun", admitted Romain on Thursday.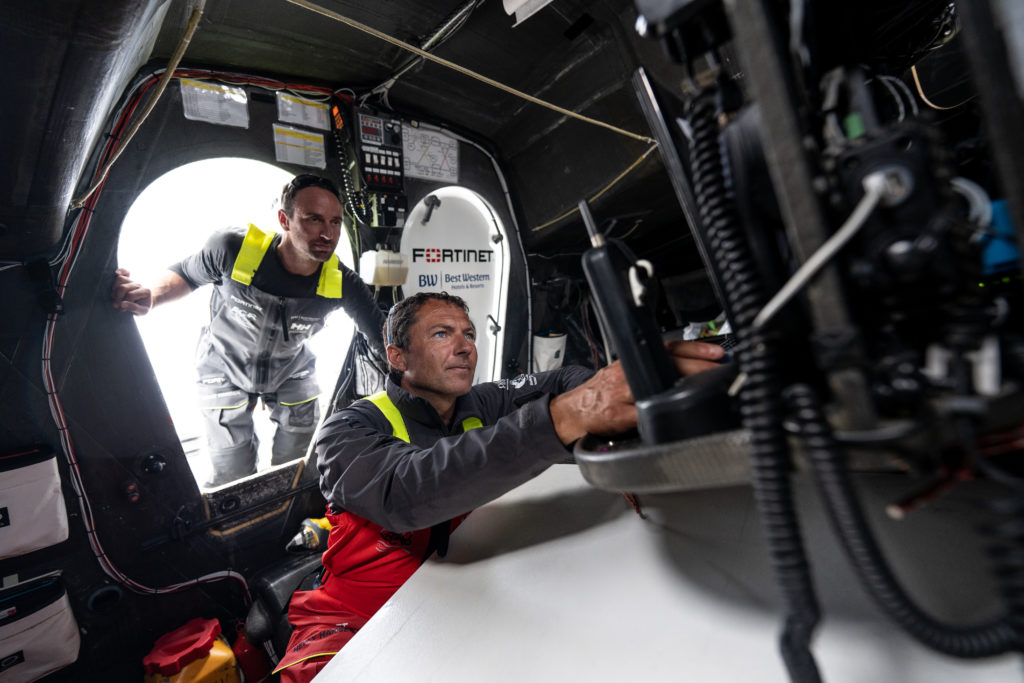 Offshore though, what is true one minute is always quick to change. In this way, on approaching Cape Finisterre, Fortinet-Best Western finally latched onto some slightly stronger breeze. At that point, the 'foiler' was able to really show what she was made of, spurring on the duo in the process. And when they're 'belting along', out come the smiles, even in foul weather gear. The deck is constantly awash, and they'll soon have to negotiate the Canaries. The weekend provides no respite, and the nights are still short, but Fortinet-Best Western is going strong.
The two men pass to the west of the island of Gran Canaria before setting a course southward and continuing to make headway along the African coast. It'll soon be necessary to hang a right, westwards, and head out to the open ocean and the Atlantic. However, self-sacrifice is the order of the day and for good reason: though they have slightly dropped off the pace of the leaders, Romain Attanasio and Sebastien Marsset are very much part of the chasing pack with a firm grip on the top 10. This Monday morning, they're positioned in 8th place, slugging it out with Prysmian Group (Giancarlo Pedote and Martin Le Pape) and Maître Coq IV (Yannick Bestaven and Jean-Marie Dauris).
CARDS ON THE TABLE:
Sébastien MARSSET, this Monday morning:
"This first week has been extremely positive because it validates all the work we've put into this project throughout the season. The only slight frustration is that we've dropped back from the leading group. We had the feeling that we were a bit unlucky in the Bay of Biscay after getting stuck in a windless zone, which was hard to predict, added to which there was no opportunity to make up the lost ground. It's not over yet though! What is really encouraging is having boats alongside us, which means we can challenge one another. Right now, we're in a NE'ly trade wind of a good twenty knots or so, which will ease over the course of the morning. After that we'll try to thread our way between the African coast and the remains of this trade wind. Over the coming days, we'll have to try to reposition ourselves over to the west to line up for the doldrums, whilst negotiating the Cape Verde passage. Above all, we're going to make the most of the current breeze!"